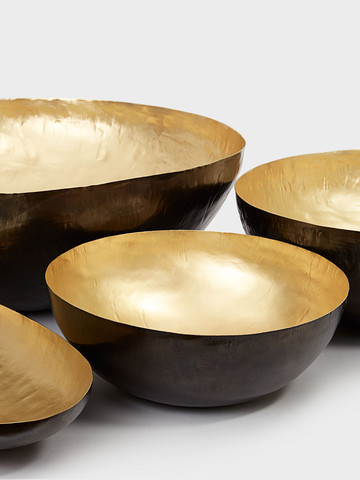 Black & Brass bowl
Stunningly luxurious with it's rich gold interior and contrasting antique effect black exterior, this bowl will add a touch of elegance to your home.
Made from a single sheet of brass, hand beaten, bashed and hammered into shape making each a one off piece. These come in a variety of sizes from a set of 2 tea light holders, snack bowl to a large bowl that will make a stunning feature. Pair with different sizes for a cohesive arrangement. All are food safe.
DETAIL
Made in: India
Material: Solid brass with matte black exterior
Size: Tea Light 8cm D x 5cm H, Snack Bowl 12.5cm D x 6cm H, Medium Bowl 20cm D x 9cm H, Large Bowl 30cm D x 10cm H
Care: Food safe, although not recommended for highly acidic foods. Hand wash only.
Please note: Due to the handmade nature of the design, measurements will vary slightly.
Adhya Design works to foster and promote Indian craftsmanship through the revival of traditional techniques with a contemporary focus. Providing economic opportunity and close working relationships with the artisans, they have watched many of them grow and be able to provide for their families. Working towards a more sustainable model recycled materials are used where possible.