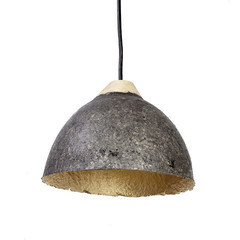 Recycled Paper Lampshade
These beautiful pendant lampshades are handmade entirely from recycled newspaper and jacaranda wood. They are embellished with gold paint and varnished with an eco varnish for durability. A great and unique way to add some light to any space!
DETAILS
Made in: Swaziland
Materials: Recycled paper
Size: 26cm D x 15cm H
What began with a simple rolled paper bead earring displayed on a card and employing one artisan has become a thriving workshop and business. Established in 2009, Quazi Designs works with recycled paper to create original designs that include paper beaded necklaces, bracelets and bowls. Bright, re-used magazines turn into objects of beauty through innovative product development and the talented artisans in Swaziland.
"We believe in treating people, planet and profit equally, building a business where ethical and social standards balance with cutting edge design.